2025 Broadband Advocacy Target 1
MAKE BROADBAND POLICY UNIVERSAL
By 2025, all countries should have a funded National Broadband Plan (NBP) or strategy, or include broadband in their Universal Access and Service (UAS) Definition
Action to enhance broadband access is more likely when there is a national broadband plan or strategy in place, and/or when broadband is included in countries' Universal Access/ Service (UAS) definitions. 
The Broadband Commission has been tracking National Broadband Plans (NBPs) and strategies adopted by countries globally for over 10 years, and originally named "Universal Broadband Policy" the first of its four main targets which were established in 2011. The target was revised in 2016 with an increased emphasis on implementation capacity through the specification of how plans and strategies are funded. Progress on this target is tracked annually in our flagship State of Broadband report. Since the first edition of the report, there has been a notable increase in the number of countries with NBPs or strategies, but more work must be done to monitor and evaluate the current state of implementation of these national plans.
In 2022 we saw the number of economies with a broadband plan slightly decrease due to expiration or non-renewal. A new way of approaching broadband financing is necessary, as highlighted in ITU's report on financing universal access.
Growth in the number of countries with a national broadband plan, or emphasis on broadband in a digital agenda or strategy, 2021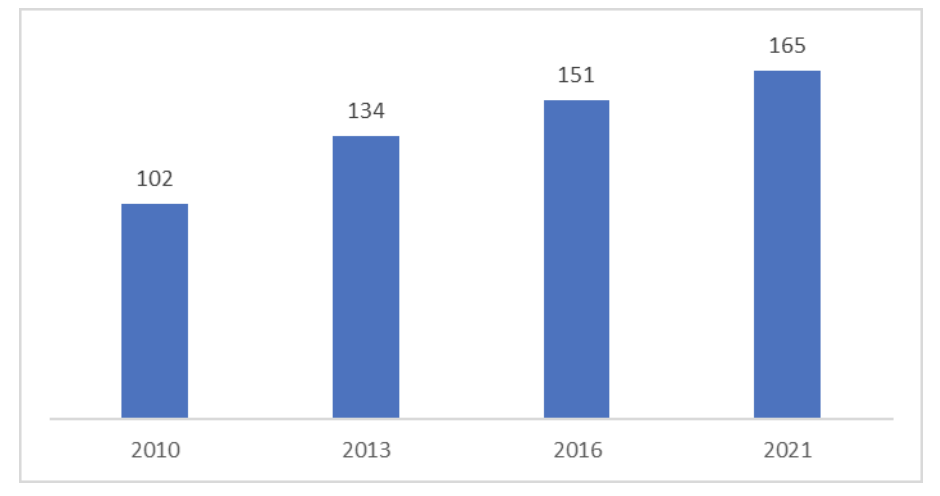 ITU data shows that by the end of 2020, there were 165 countries with an established "broadband plan", or strategy and several countries were in the process of adopting and creating their own plans and others moving forward on next steps as their previous plans had expired. While this is a clear increase from the 102 countries that we identified in 2010 as having an NBP, countries are focusing less on developing a new plan and rather looking to upgrade their universal access and service (UAS) definitions or terms of service or developing broader digital transformation strategies.
The Broadband Commission advocates for holistic 'whole-of-government approach' strategies that specifically focus efforts on demand and supply side: affordability, access, and safety for all users, and that incorporates local content and resources to empower users to integrate broadband use into their daily lives. 
For over a decade, the Broadband Commission has tasked its multi-stakeholder membership to develop policy recommendations that are critical to realizing universal connectivity. These recommendations are published annually in the Commission's Flagship State of Broadband Reports. For reference, we have consolidated 10+ years of reports to present the Commission's key steps for the Decade of Action to ensure global implementation and adoption of broadband and achieve the United Nation's Sustainable Development Goals.