Working Group Co-Chaired by:
Objectives of the Group:

In the developing world, there is limited broadband connectivity in many hard-to-reach areas in Africa, Asia, South America and the Pacific Islands. Consequently, half the world is not online – that is 3.6 ​ billion people. In 2016, the ITU estimated that it would cost up to $450 billion to connect the next 1.5 billion people. Over the last three years, globally, network operators and other industry players have undertaken considerable efforts in expanding infrastructure. However, there are still around 1 billion people who are not cove​red by mobile broadband networks and another 2.7 billion who are within coverage range but are not accessing mobile internet services. The current average broadband penetration in Africa is approximately 30%, and the UN Broadband Commission's 'Moonshot for Africa' Working Group estimates that, in Africa alone, it will cost about $100 billion to achieve ubiquitous broadband adoption by 2030. That estimate is to achieve broadband connectivity with 3G and 4G radio access networks
The funding is a crucial issue to address – both in terms of infrastructure and in terms of meaningful engagement with the Internet and digital economy where coverage is available.
The objective of the Working Group is to provide governments and policymakers with a set of policy recommendations for consideration to foster innovative funding, financing and investment strategies and which can enable and empower existing and new business models to achieve the Commission's targets for broadband connectivity and adoption​.
1. The Group was launched during the Broadband Commission Annual Fall Meeting in New York on 22 September 2019​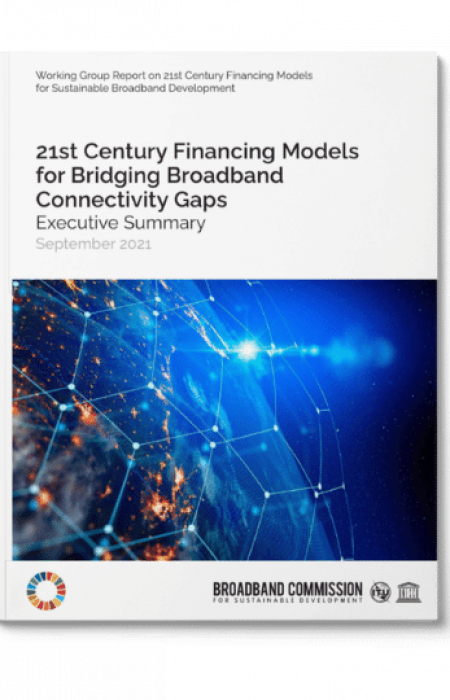 21st Century Financing Models for Bridging Broadband Connectivity Gaps
The Broadband Commission 21st century Financing Models Executive Summary integrates a variety of innovative financing models into four larger strategic recommendations representing the report's key outcomes, that structure the document and that reflect current economic and political realities. The strategic recommendations focus on broadening the base of contributors: earmarking proceeds from ICT sector participants, reforming Universal Service and Access Funds (USAFs), and creating an international fund.
Co-Chairs: SAMENA Council, Zain
Ann Aerts, The Novartis Foundation
Amir Dossal, Global Partnerships Forum
Makhtar Diop, IMF ( formally of the World Bank)
Patrick Masambu, ITSO
Inmarsat
Jeffrey Sachs, Columbia University
MTN
Stephen Spengler, Intelsat
Mats Granryd, GSMA
Carlos Jarque, Americal Movil
Lacina Koné, Smart Africa
Achim Steiner, UNDP
KT Corporation
Rwanda
ITC
Sunil Mittal, Bharti Airtel

Dato

Lee Yee Cheong, UNESCO-ISTIC
Orange
H.E. Mr. Roberto Sanchez, Ministry of Economic Affairs and Digital Transformation of Spain
Former Commissioner Joanna Rubinstein, World Childhood Foundation