2025 Broadband Advocacy Target 6
By 2025, improve connectivity of micro-, small- and medium sized enterprises (MSMEs) by 50%, by sector
The connection of Micro-, Small- and Medium-sized Enterprises (MSMEs) with broadband will increase their competitiveness and allow them to participate in the global marketplace where online business transactions are increasingly the norm.
In 2018 when this target was established, these goals were considered particularly ambitious, calling for a 50% increase in broadband connectivity in MSMEs by sector. For example, a sector in which MSMEs are 80% unconnected in 2018, will have only 40% unconnected by 2025. However, since the onset of the COVID-19 pandemic, MSMEs have experienced extreme consequences, with 1 in 4 being expected to shut down due to the crisis.
Digitalization can both give MSMEs a competitive edge during normal times and enable them to better cope with the increasing challenges brought by the pandemic and strengthen their future resilience.

However, MSMEs face several challenges in broadband adoption:
availability of necessary technologies to digitalize (high-speed connectivity in urban and rural areas) and suitable digital tools and services; 

capacity of SMEs to digitally transform, when it comes to financial resources and time (and the pandemic has deepened these constraints); and 

capability of SMEs to gauge, plan, implement and optimize their transformation through digital skills
Gaps in penetration rates between countries (left hand panel) and small and large firms (right hand panel), 2011-19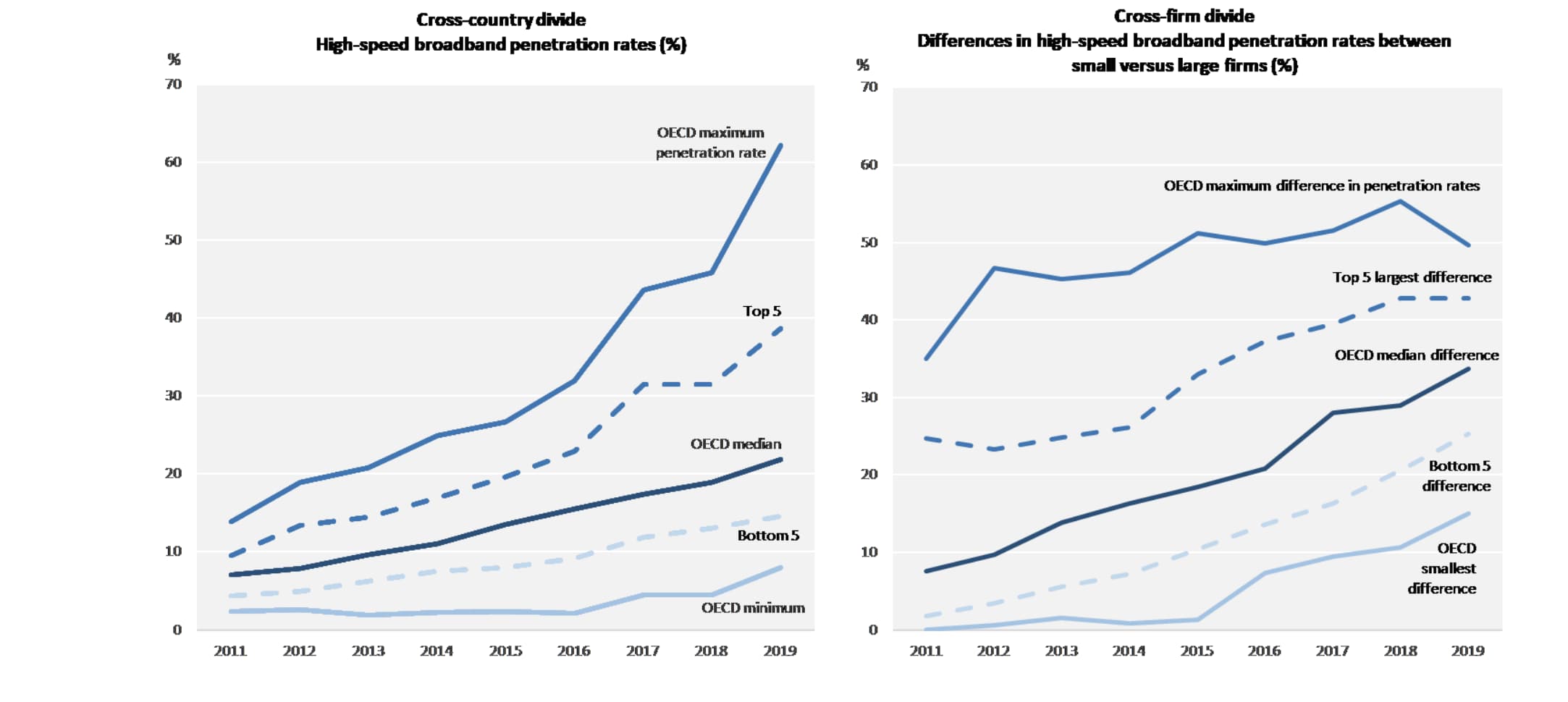 Note: High-speed broadband connection is defined for download speed at least 100 Mbit/s. Penetration rates are the percentage of enterprises with high-speed broadband connection in the country. Cross-firm divides are differences in penetration rates between small and large firms in the country. Data only cover enterprises with 10 or more employees. Small firms employ [10-49] persons, and large firms 250 and more persons.
Source: The Digital Transformation of SMEs, OECD 2021
A 2021 report by the OECD purports that, "The uptake and use of digital technologies by MSMEs will determine the extent of overall Internet economy growth, particularly in developing countries" and that over half of employees at medium-sized firms are equipped with Internet access. OECD data shows that while the penetration rates of high-speed broadband have been increasing, gaps between firms in lagging countries have widened significantly. 
"These gaps have left some firms – and places – with limited scope to adapt their business models and maintain operations during extended periods of social distancing, exacerbating existing inequalities."
For most low- and middle-income nations, even aggregated data on total enterprises with Internet access is not available, let alone by sector. A 2022 survey of informal enterprises in nine African countries found low levels of ICT use: use of the Internet was 7% on average ranging from 24% in South Africa to 1% in Rwanda. Over 90% of businesses surveyed in Ghana, Kenya, Mozambique, Nigeria, Rwanda, Tanzania and Uganda reporting not having a computer.