2025 Broadband Advocacy Target 5
INCREASE USE OF DIGITAL FINANCIAL SERVICES
By 2025, 40% of the world's population should be using digital financial services
Digital financial services present a tremendous opportunity to swiftly increase the number of people using broadband and the Internet and in doing so, give access to the social and economic benefits of these digital resources and the online marketplace.
In 2018, when the Commission first began tracking this target, 2 billion adults did not have access to a bank account, and yet 1.6 billion of them had access to a mobile phone, creating the potential for e-finance access, and with this, access to economic empowerment.
As with other digitally-enabled services that improve daily life, digital financial services, or e-services, have been heavily utilized during the COVID-19 pandemic for payment of transactions as well as to avoid unnecessary face-to-face interactions. These digitalized services enable new and innovative businesses and interactions to thrive on a global scale where in the past they may have been constrained by their physical location.
According to the latest data from the World Bank's FINDEX survey, 64% of people aged 15 years and older made and/or received digital payments in 2021. This figure exceeds the target of 40% on a global basis. While low and lower middle-income countries and South Asia have not yet reached the target, they are on track to achieve it by 2025.
A 2021 study by GSMA, it was found that 96 low- and middle-income countries hosted 310 different mobile money services ( a service in which the mobile phone is used to access financial services), with the number of accounts growing by 12.7% globally in 2020 alone.  While the number of services available in a country is not a proxy for mobile money penetration of the population, data shows that mobile money is now available in most markets where access to financial services is low. 
Number of mobile money services per country, 2020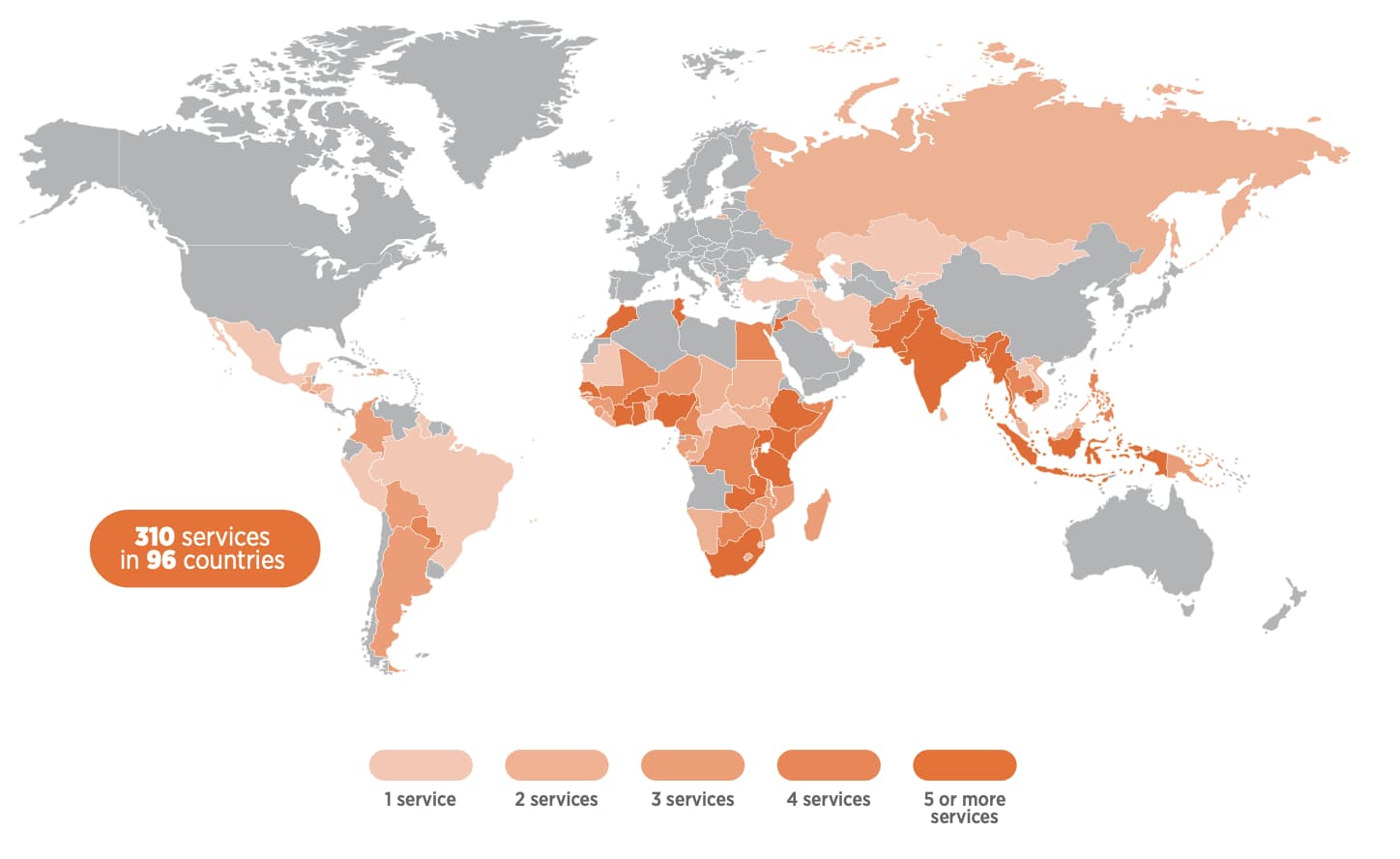 Governments around the world have also been promoting cashless transactions, reducing charges on lending and leading efforts to limit cash handling as part of overall COVID-19 responses. In an effort to bolster household income and social protection services, governments have also increased direct payments to citizens struggling with the impact of the pandemic. The number of citizens receiving 'G2P', or government-to-person payments, increased four-fold from September 2019 to June 2020, though much greater adoption is still likely.
Number of unique customer accounts receiving G2P payments by region