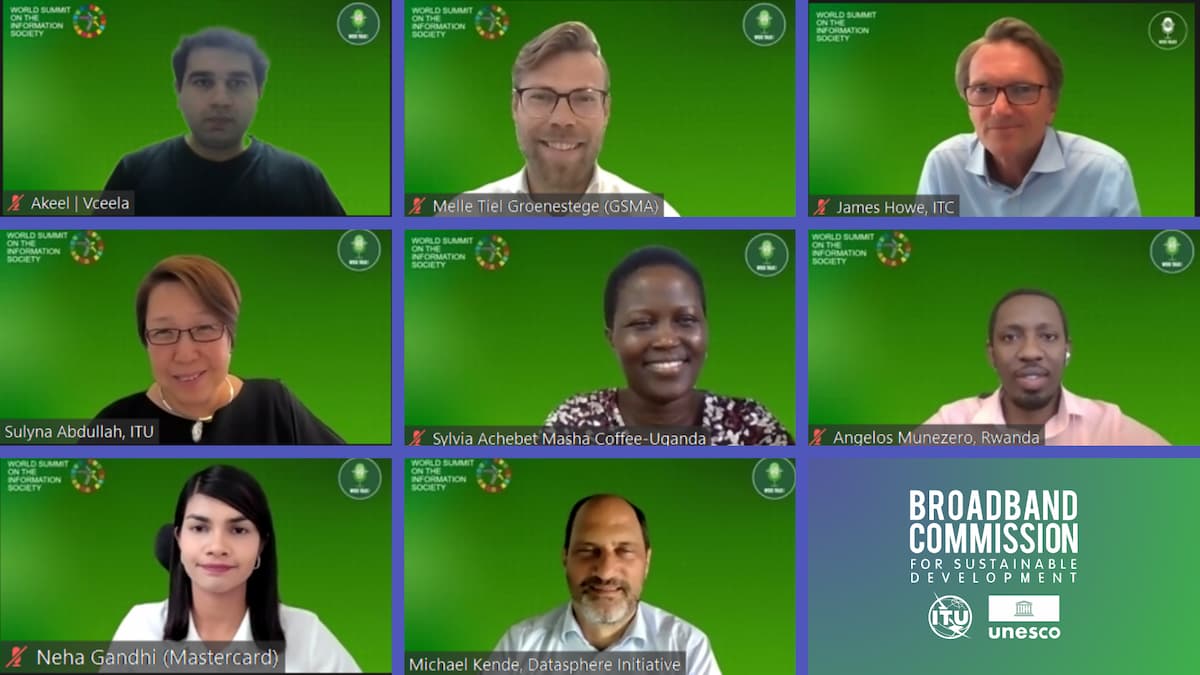 On June 27th, in celebration of MSME Day 2023, the Broadband Commission's Working Group on Connectivity for MSMEs hosted a webinar titled "The Power of Connectivity and Digital Tools for Small Businesses." The event was broadcasted through WSIS&SDG TalkX, a platform dedicated to sharing experiences and stories on ICT for development by stakeholders all over the world. 
Co-chaired by Ms. Pamela Coke-Hamilton, Executive Director of ITC, and Mr. Mats Granryd, Director General of GSMA, the Working Group on Connectivity for MSMEs aims to examine the potential and obstacles in enabling greater online presence and participation in online trade for micro-, small-, and medium-sized enterprises (MSMEs) in low- and middle-income countries (LMICs). 
To further this aim, the Working Group brought together a panel of experts from government, private sector, international organizations, and MSMEs to share first-hand insights and perspectives on the importance of connectivity and digital tools for empowering MSMEs. The webinar discussion, comprising two interactive sessions, was led and moderated by Mr. James Howe, Head of Digital, Markets and Connectivity at ITC. 
The role of digital cooperation in promoting inclusive economic growth
Ms. Sulyna Abdullah, Interim Executive Director of the Broadband Commission for Sustainable Development, ITU, opened the session by acknowledging the role of WSIS Process and the Broadband Commission in promoting digital cooperation for the achievement of the SDGs and inclusive economic growth. Ms. Abdullah placed emphasis on the Broadband Commission's advocacy for MSMEs, as exemplified by 6th Advocacy Target  which seeks to improve connectivity of MSMEs by 50%, by sector by 2025, and underscored that 
Mr. James Howe, Head of Digital, Markets and Connectivity at ITC then emphasized the critical significance of sustaining MSMEs amidst the ongoing paradigm shift towards online trade. He offered the example of "ecomConnect" initiative by ITC, which aims to equip institutions and MSMEs from developing countries with essential e-commerce skills. Furthermore, he underscored the pivotal role of partnerships in effectively addressing the challenges associated with this domain. 
Mr. Melle Tiel Groenestege, Director Digital Inclusion Policy & Advocacy at GSMA added to the conversation the importance of digital inclusion of women stating that "when micro and small businesses, especially those run by women have better access to mobile Internet and digital services, they really help build prosperous communities, societies and economies." Yet, while research on the financial inclusion of small businesses exists, the digital inclusion of them is much less studied. To this extent, the GSMA is working on a three-year project funded by the Bill & Melinda Gates Foundation to research and improve digital and financial inclusion of women micro entrepreneurs, as well as supporting entrepreneurs directly through the GSMA Innovation Fund. 
Mr. Michael Kende, Chair of The Board of Trustees at Datasphere Initiative, concluded the session by explaining the scope of the work of the Working Group on Connectivity for MSMEs. Through a focus on digital connectivity and mobile tools, the WG is studying the latest data on the current use of connectivity by MSMEs, building a case for the benefits of connectivity, addressing the barriers to meaningful connectivity for both individuals and MSMEs, and lastly, offering multistakeholder recommendations for fostering an enabling environment to maximize the potential of connectivity for the growth and development of MSMEs.
The overview of the Working Group's report was followed by valuable insights from the four panelists who offered a diverse overview of the challenges and opportunities in leveraging digital technologies for MSMEs.
Mr. Angelos Munezero, Public Sector Digitization Analyst from the Ministry of ICT and Innovation in Rwanda

, emphasized the pivotal role of MSMEs in driving Rwanda's economic development. He highlighted that MSMEs constitute more than 95% of the country's economy, underscoring the importance of focusing on their needs and enabling them to contribute to national development.



Rwanda has prioritized connecting MSMEs to facilitate their business operations, access financial services as well as local and global markets. The government has implemented pilot projects aimed at connecting over 5,000 MSMEs within a year, resulting in valuable insights into their digital requirements. However, a significant challenge persists: around 90% of MSMEs operate informally, which creates barriers to accessing financial services, expanding into markets beyond Rwanda, and obtaining loans or other forms of financial support.
Mr. Akeel Khalid, CEO of Vceela in Pakistan

, highlighted the advantages of utilizing digital technology through the online platform Vceela. By leveraging connectivity, Vceela connects artisans directly to local and international markets, even those that lack knowledge or literacy in digital technology. This disruption of the traditional industry model has resulted in a doubling of artisans' earnings and increased profits from their products. Additionally, consumers benefit from affordable prices, creating a mutually beneficial situation for all stakeholders involved.




Ms Sylvia Achebet, Masha Quality, Uganda

emphasized the benefits of digital connectivity in her enterprise. Through the use of digital tools, the company has been able to make more informed decisions by conducting data-driven negotiations and effectively monitoring prices. By having a more accessible website and social media presence, they have accessed new buyers and markets.
Ms Neha Gandhi, Director, SME Segment, Public Sector, Mastercard –

who also serves as an external expert on the Working Group – presented on

Mastercard's global commitment to bringing 50 million MSMEs, including women-owned enterprises, into the digital economy by 2025 through a collaborative effort with governments in over 160 countries.

Ms. Gandhi outlined three key needs and challenges faced by MSMEs: enabling digital payments, accessing capital through digital technologies and tools, and addressing concerns related to reluctance in adopting digital tools and the informality of businesses. These barriers are often associated with perceived issues such as tax liabilities and transparency concerns. Furthermore, there is a need to consider both supply side factors (such as limitations in infrastructure and access to electricity and the internet) as well as demand side factors (such as inadequate digital skills and limited financial literacy) when considering solutions for furthering the digitalization of MSMEs. 

 
What is the most significant advantage that connectivity brings to MSMEs?
When it comes to the most significant advantage that connectivity brings to MSMEs, the perspectives from the experts shed light on various aspects: 
Mr. Angelos Munezero

highlighted that connectivity, digital literacy, and access to a digital single market will enable MSMEs to benefit from cross-border trade, unlocking opportunities for growth and expansion.

 
Mr. Akeel Khalid

emphasized the advantage of a successful digital inclusion system, which provides MSMEs with access to the global market, financing, quality and affordable raw materials, as well as knowledge of modern and marketable designs

 
Ms Sylvia Achebet

underscored the significance of access to real-time data and information, both from farmers and buyers. This access enables organizations to establish a well-functioning system that positions them effectively to seek investments and partnerships. The availability of reliable data further enhances decision-making and preparedness for investment. 

 
Ms Neha Gandhi

identified that the most notable advantage of connectivity for MSMEs is the direct increase in sales. Digital technologies have empowered MSMEs to drive sales growth, with some experiencing significant boosts ranging from approximately 20% to as high as 78%. These initiatives leverage digital tools to expand customer reach and enhance business performance.

 
The webinar underscored the critical role of connectivity and digital tools in empowering MSMEs. Key takeaways include the opportunities, challenges, and the importance of partnerships in addressing challenges.  
To explore a broader range of inspiring impact stories from MSMEs around the world check out the Broadband Commission's  MSMEs Day Campaign showcasing how digital tools and connectivity have enabled MSMEs improvement and expansion with cases from different industries and regions. 
And stay tuned for the launch of the report of the Working Group on Connectivity for MSMEs during UNGA in September for more insights.