Working Group Co-Chaired by:
In September 2015, the UN General Assembly adopted Sustainable Development Goals (SDGs) comprising 17 goals across economic, social and environmental priorities as a blue print to achieve sustainable development of the current and future generations. Goal 3 focuses on ensuring well-being across all nations as a key to achieve the global ambition. Under the goal, epidemic diseases have received a particular attention from the global society becoming importance matters at hand.
Due to insufficient prevention measures, a number of fatal outbreaks of infectious diseases have massively and negatively affected the global economy and humanity. Ebola has deadly swept across West Africa with over 90% fatality rate, resulting in 11,310 death tolls from a total of 28,616 Ebola cases especially in countries such as Liberia, Sierra Leone, and Guinea between 2014-2015. The $800 million economic loss shook off the developing countries. Furthermore, countries with refugee issues call for particular attention. Refugee health has been called "a public health crisis of this century," needing as much attention and collaboration over resources as global epidemics. Whether they are on the move or stuck in camps with limited medical care, refugees can also be particularly vulnerable to epidemics – as well as acute and chronic diseases.
Another important element of preventing epidemics is education. Through education, people vulnerable to infection will learn about the symptoms, treatment and prevention measures for further spread. This will slow down the spread of diseases while it will help early detection and shorten the recovery time. "In this day and age, the importance of public education and awareness about Ebola cannot be exaggerated."
Global platforms including The World Economic Forum (WEF) and B20 are continuously discussing on innovative approaches such as mobile computing, mobile communications and broadband internet as options of accurate and resource-efficient responses to epidemics. Especially, ITU-UNESCO Broadband Commission through its ICT expertise could strengthen such effort with its technical and humanitarian insights and by doing so, would pave the way to achieve SDGs.
The Working Group on Epidemic Preparedness will provide an optimum arena where diverse stakeholders could discuss the preparedness of global epidemics and identify conducive ICT technology options that are simple and cost efficient to implement. The country studies will be of benefit to not only developing counties, but also a wider international community as it covers a range of technology, regulatory and institutional aspects. Eventually, the group seeks to work towards the improvement of the global health conditions making the world a better place to live.​
Objectives of the Group:

​​The Working Group on Epidemic Preparedness has been established with the objective of providing analysis of technical, regulatory and institutional aspect of preventive measures and identifying best practices.

The working group will highlight the role of education in lessening the negative impact of epidemic outbreak. It will also present recommendations for implementation based on the i​nsights of the best cases, and will c​onduct trials in the participating countries following the recommendations. 
​​​​​​​​​The group was proposed during the annual Broadband Commission meeting held in September 2017. ​​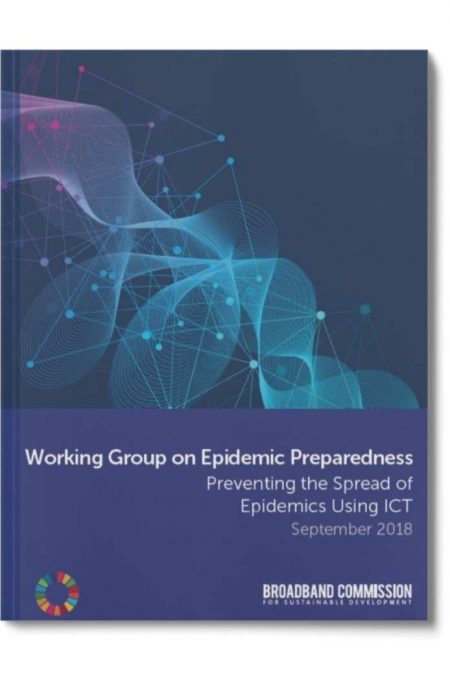 Preventing the Spread of Epidemics using ICTs
The report provides practical recommendations and best practice examples for how policy makers can use readily available and innovative ICT to prevent the spread of epidemics such as SARS, MERS and Ebola. Numerous cases of fatal outbreaks of epidemics have massively and negatively affected the global humanity and economy, resulting in high health risks and economic losses. Properly and securely utilizing data, establishing an integrated global epidemics monitoring ICT platform, and expanding global governance are essential for help preventing the spread of epidemics in effective manners.
KT Corporation (Chair)
FLACSO Argentina
Government of Ethiopia
GSMA
Intel
Kenya
Malaysia
Novartis Foundation
Pakistan
Rwanda
UN Global Pulse
UN Foundation
ITU
CITC
Ericsson
Safaricom​​​​
World Bank
WEF
PAHO
WHO