Working Group Co-Chaired by:
There are >2 billion children (The UN definition of children is 0-18 year of age and youth is estimated to be 15-24 years of age.) under the age of 18 and >1.8 billion youth in the world, with the majority living in the developing countries in Sub Saharan Africa and Asia. The rapid expansion of broadband (fixed and mobile) in the developing world will bring a lot of benefits to children and youth and accelerate the economic growth of the countries, but it will also put millions of children at risk. Therefore, to ensure that children can benefit from this transformational technology (access to education, health care, information and entertainment) while eliminating the negative consequences and risks of access to connectivity (violence, abuse, exploitation, bullying, trafficking, access to illegal drugs, radicalizing information, child labor, recruitment of child soldiers and other harmful and illegal activities) there is a need to mobilize the will and action of various stakeholders. Some of these key stakeholders – regulators and operators – are represented by the Broadband Commission.
The 2030 agenda with its 17 Sustainable Development Goals (SDGs) provides new opportunities to address violence against children. The SDG 16.2 – ending abuse, exploitation, trafficking and all forms of violence (physical, psychological and sexual) against and torture of children by 2030, will not be reached without addressing the role of the broadband to combat these illegal activities affecting children.
There are several important initiatives led by the UN system including ITU and UNICEF, GSMA, governments, non-governmental organizations and the private sector addressing the risks children are exposed to on-line, especially grooming and child sexual exploitation, trafficking, propagation of child sexual abuse materials, or bulling. These groups have contributed to the development of educational programs for children how to avoid the risks and behave on-line, and for adults/parents how to protect their children. There are also different tools to block access to illegal sites on Internet. But despite these efforts, Interpol is observing significant increase in child sexual abuse material on-line, and other criminal activities affecting children. With expansion of broadband and the ambition of providing universal access to connectivity, we can anticipate that many more children will be at risks, in the developing countries that often lack access to response systems off line.
Objectives of the Group:

Therefore, it is imperative that the new Working Group identifies and pursues what the ITU/UNESCO Broadband Commission for Sustainable Development and its commissioners are uniquely positioned to address that the UN system, governments or the NGOs cannot. Considering its membership (the regulators and the operators) and the mandate, the commission can help to identify and address gaps in the policy and legislative space, and can recommend to the operators and the Internet companies development and adoption of solutions minimizing the risks to children on-line, including technology driven solutions.    
​​​​​​​​​The group was launched in September 2018 during the Broadband Commission's Annual Fall Meeting.

The Group held it's kick off call on December 5th 2018.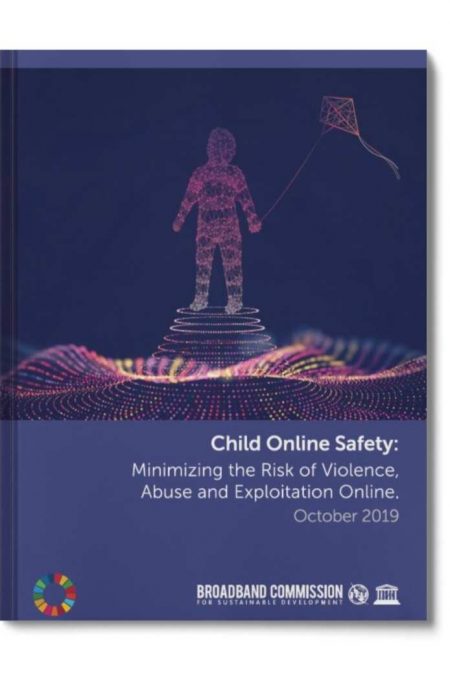 Minimizing the Risk of Violence, Abuse and Exploitation Online
This report aims to increase the prioritization of child online safety among all the key stakeholders and decision-makers from governments, the private sector, civil society, NGOs, and academia. Its recommendations are actionable and represent a call to collective action. They are based on the knowledge and expertise of major expert groups that have a long-standing commitment and experience in fighting various forms of violence against children online.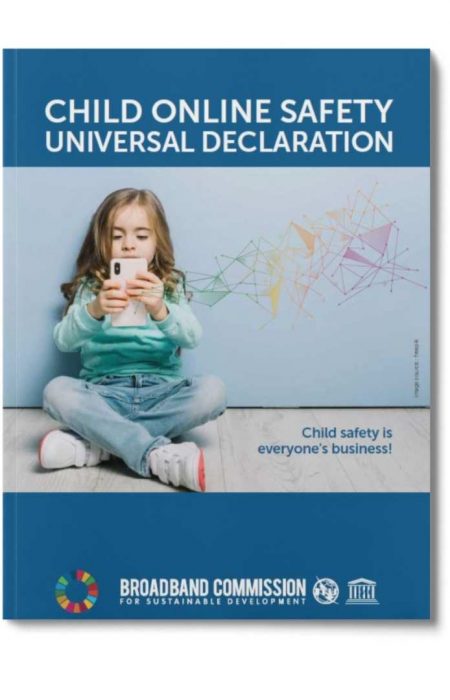 The Child Online Safety Universal Declaration
Child safety is everyone's business!
The ITU's Child Online Protection (COP) initiative covers most aspects of child online safety and together with other international initiatives provides a blueprint for all of us. Implementation requires proactive engagement by all concerned stakeholders and decision makers who must allocate resources, champion the cause and play an active role in ensuring child online safety. Several modes of engagement exist to help protect children online. They require developing and enabling partnerships with a focus on keeping children safe online and empowering them for the digital world.
The Child Online Safety Universal Declaration strives to align all relevant stakeholders on the common mission of championing the cause of protection of children online.
Co-Chairs: Zain & World Childhood Foundation
Dr. Dato Lee Y​ee Cheon​​​g, ISTIC​
Baroness Beeban Kidron, 5Rights
Mr Börje Ekholm, Ericsson
Mr. Marc​in Cichy, Poland
Mr Denis O'Brien, Digicel
Dr. Speranza Ndege, Kenyatta University
Dr Carlos Jarque, America Movil
Ms Audrey Azoulay, UNESCO
Mr Kevin Martin, Facebook
Mr. Adrian Lovett, Web Foundation
Mr Mats Granryd, GSMA
Mr Paul Mitchell, Microsoft
Ms Phumzile Mlambo-Nguka
ITU​
H.E. Mr Hamad Obaid Al Mansoori, TRA
H.E. Dr Amni Abou Zeid, African Union
Ms Kristalina Georgieva, World Bank
Mr Sunil Bharti Mittal, Airtel​
Huawei​
H.E. Dr Abdulaziz Salem ​Al Ruwais, CITC
Mr. Bocar Ba
Mr. Uri Sadeh, Interpol
Mr. Howard Taylor, End Violence Partnership
Mr. John Carr 
Mr.Paul Shapiro, ICMEC
Ms. Susie Hargreaves​, WPGA, IWF
Mr. RobbertVan Der Berg, ECPAT
Ms. Anna Borgstrom, NetClean
WEF –YuhyunPark​
Ms​. Heddy Ring, Telia
UNSG High Level Panel on Digital Cooperation
Ms. Julie Cordua, Thorn
Ms. Charlotte Petri Gornitzka, Ms. Jasmine Byrne, UNICEF
Ms. Elizabeth Letourneau, JHU
Mr. Ernesto Caffo
Ms. Helen Mason, Child helpline International
Ms. Samantha Woolfe, INHOPE