Working Group Co-Chaired by:
Objectives of the Group:

​​​Identify and target possible partnerships which could result in scale-up initiatives in the Millennium Villages (e.g. in Nigeria).
Increase training for Community Health Workers (CHWs) by leveraging ICT and more specifically mobile broadband services.​

Provide a test-bed for quantifying the impact of broadband penetration on social and ec​onomic development (and the MDGs).
President Paul Kagame, Novartis CEO Joseph Jimenez and Professor Jeffrey Sachs announced new healthcare initiative targeting rural Africa – Jeffrey Sachs launches the 

1 Million Community Health Worker 

Initiative 

at the World Economic Forum with strong support from President Paul Kagame and Novartis. 

​The campaign will be overseen by a steering committee at the Earth Institute and will be run through the 

United Nations Sustainable Development Solutions Network

 as part of its Solutions Initiative.
​The group, chaired by Professor Jeffrey Sachs of the Earth Institute, was launched via teleconference on 6 April 2011. ​
​The group has held another two meetings, one via teleconference in May 2011 and the other in person as a side event to the Paris meeting on 6 June 2011.
In 2012 Professor Jeffrey Sachs launched new UN Sustainable Development Solutions Network at Columbia University on 22 September, comprising research centres, universities and technical institutions with a mandate to seek solutions to some of the world's most pressing environmental, social and economic problems. Several Commissioners were in attendance and the group fully supports Professor Sachs in his new endeavor.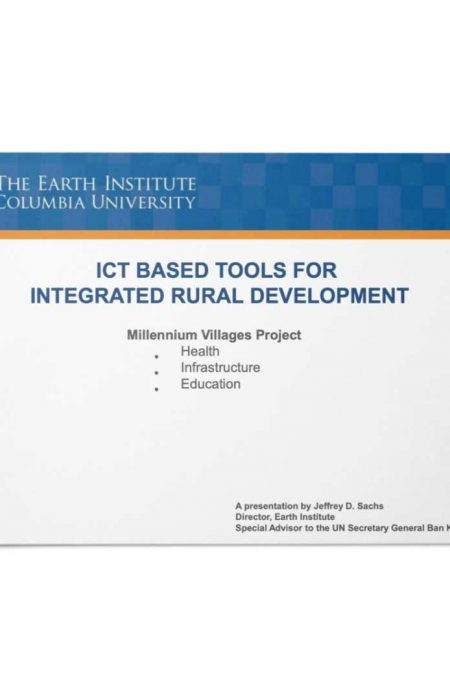 ICT Based Tools for Integrated Rural Development
The Working Group on Health identified path-breaking opportunities for broadband-based solutions to advance primary health systems and determine the most effective ways to scale them up. 
WIPO
European Commission
Amir Dossal, Global Partnerships Forum
ITSO
UNCTAD
OECD
UNDP
UNAIDS
WHO
UNFPA
ITU
UNESCO
The Earth Institute
M-Health Alliance
Klaus Leisinger, Novartis
Reza Jafari, e-development international
Kri-med Global Health
Alcatel Lucent
Telmex
Intel
Ericsson
Carlos Slim Health Institute
Cisco
Qualcomm
Microsoft
Johnson & Johnson
Bharti
Government of Uruguay
Government of Azerbaijan
Government of Nigeria
Youssou N'Dour Foundation