Working Group on the
Digitalization Scorecard
How can policymakers and regulators breakdown barriers and introduce initiatives to accelerate digital change?
The Broadband Commission for Sustainable Development's 2017 Working Group on the Digitalization Scorecard, chaired by Mr. Rajeev Suri, President and CEO of Nokia, was created with the aim to present the digitalization readiness of a country, complementary to existing 'connectivity' indexes; to examine vertical sectors' digitalization readiness by analyzing sectors' 'incumbent' policies and regulations; and to produce recommendations for how to improve vertical sectors' policies and regulations to accelerate readiness.
Digitalization is a phenomenon of integrating digital technologies and ICT solutions into businesses and society; it is a conversion from the analog world into one of digital communications in its multiple applications across the many domains of our society.
Policymakers all over the world are grappling with common questions around how to balance and guide the path to digitalization. From a global perspective, digitalization is scaling quickly in some countries, yet moving more slowly and unevenly in others. Some countries are successfully defining country visions premised on digital technology and knowledge-based economic advancement and translating these into reality through the development of national ICT transformation programs and policies, the rollout of infrastructure, the adoption of new digital services and creating the appropriate awareness of the use of these services amongst the populace. 
In a world where the experience of digitalization is new and as yet untested in many fields, there is scope for all countries to observe what is happening to their peers and exemplars, implement good practices and learn from each other. An assessment of how well countries are developing policies, adopting the digital revolution and connecting the un-connected allows for the immediate identification of some of the best global examples to follow and best practices to adopt.
Conclusions and Recommendations
The Digitalization Scorecard
The digitalization scorecard explores the differences in readiness from a policy and regulatory perspective. The scorecard presents a first assessment of policy and regulatory frameworks which encourage digitalization on an economy-wide basis. It takes into account relevant legislations, but also their implementation and more generally governmental interventions. The purpose of this study is to encourage a critical revision of the policy and regulatory frameworks, to map where regulations may create obstacles to the digitalization of a country's priority sectors – or where necessary policies and regulations are missing.
The Scorecard covers five sectors:

Across six countries: Finland, Singapore, Colombia, Indonesia, Kenya, and Pakistan.
While every country covered in the scorecard showed a strong ambition in digitalization, a desire to succeed, and specific policy and regulatory initiatives, some countries were more advanced than others in taking important steps toward policies and regulations that enable digitalization, and more work still needs to be done in all six countries.
The larger strategic recommendations of this Working Group's report are centered around the six themes detailed below:
Composition and Activities
Chair
Commissioners
External Experts
Chair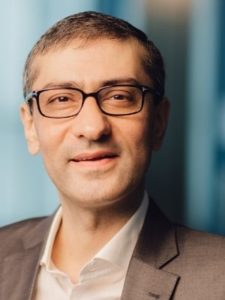 Mr. Rajeev Suri
President and CEO, Nokia
Commissioners
External Experts
​​​​​The Working Group on the Digital Scorecard was announced in March 2016 at the Spring meeting of the Commission in Dubai. The group held an onsite meeting at the Broadband Commission Spring meeting 2017 held in Hong Kong SAR of China on 15th March and launched its final report in Finland on June 5th 2017.
Mr. Rajeev Suri
President and CEO of Nokia
Broadband Advocacy Targets