Working Group Co-Chaired by:
Following on from members active participation at COP17 in Durban late 2011, the WG is preparing a report on Broadband and Climate Change with recommendations for how broadband investments can be leveraged from a climate perspective. This report will include an analysis of our present situation, government leadership, involvement by the private sector and other stakeholders, as well as a road map and recommendations for further action. The report will be made available online by late February 2012.
Objectives of the Group:

Establish a global leadership platform for creating awareness on the relation between broadband and climate change in the global climate policy work, including recommendations for governments;

Link innovation in the ICT industry to the implementation of national and regional broadband plans and accelerating the uptake of transformative low-carbon solutions, in areas such as transportation, utilities, communication or health.


Support activities to leverage Broadband and ICT on the global climate agenda, partnering with other organizations and forums that already have this focus.​​
​​​​​​​​​The group, chaired by Hans Vestberg, President and CEO, Ericsson, was launched in Barcelona (Spain) on 16 February 2011. 

The group has held three meetings via teleconference on 31 March, 30 May and 4 October 2011.​​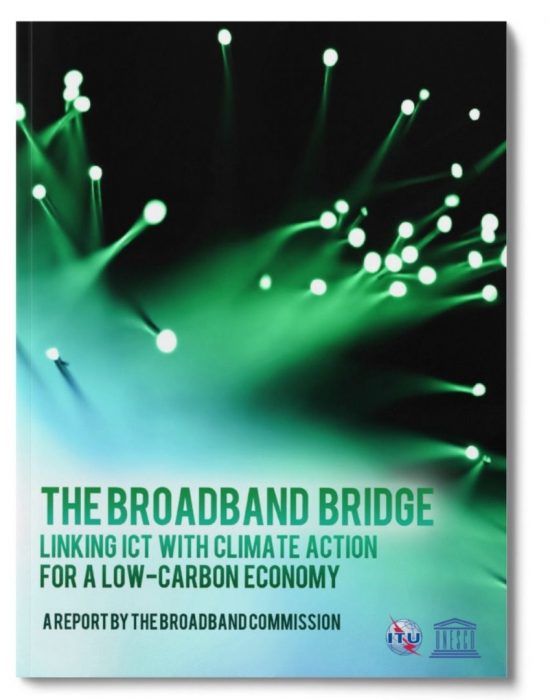 Linking ICT with Climate Action for a Low Carbon Economy
Broadband offers unique opportunities to spearhead the transition to a carbon-constrained world. But to reach its full potential, broadband needs to be a component of climate change strategy, backed up with strong policies in support of economy-wide emissions reductions. In many countries, it is this integrated regulatory framework that is the crucial missing link to achieve carbon reduction commitments through the use of broadband networks, services and applications. For broadband to deliver on its climate change reduction potential, a range of obstacles and challenges need to be overcome.
Hans Vestberg, Ericsson
Ali M. Abbasov, Minister of ICTs Azerbaijan
Ben Verwaayen, Alcatel Lucent
Bruno Lanvin, INSEAD
Esteban Pacha, IMSO
Hamadoun Toure, ITU
Helen Clark, UNDO
Jeffrey Sachs, Earth Institute
Klaus M. Leisinger, Novartis
Orlando Ayala, Microsoft
Paul S. Otellini, Intel
Sun Yafang, Huawei
Sunil Mittal, Bharti
Luis Neves, GoSi
Veena Rawat, RIM