Working Group Co-Chaired by:
The Working Group on Broadband and Science has produced a report containing a number of policy recommendations relating to the use of broadband networks and National Research and Education Networks (NRENs) to advance scientific research.
Objectives of the Group:

​​The Working Group on Broadband & Science (WG-S) brings fresh perspective to the Broadband Commission , because the requirements of many advanced scientific applications are often considerably greater than what is usually talked about in the context of standard broadband services. ​​​​​​​​


​The WG-S has examined the requirements of broadband research and education networks (e-Infrastructures) for data-intensive scientific activities, and has drawn attention to the need for such e-infrastructures in developing countries; as well as the link between such networks and the Millennium Development Goals (MDGs). 
​The WG-S was created in January 2011 and held two video-conferences (26 May and 27 September) and a presence meeting (chaired by Carl Buhr on behalf of VP Kroes) on 27 Jun​​e in Paris on the margins of the OECD HL meeting on the Internet Economy (28-29 June). 

​​​​Four draft versions of the report were circulated and reviewed by an extensive group of Broadband Commissioners, representatives and additional contributors from academia, industry and public institutions; before its presentation to the Broadband Leadership Summit in October 2011.​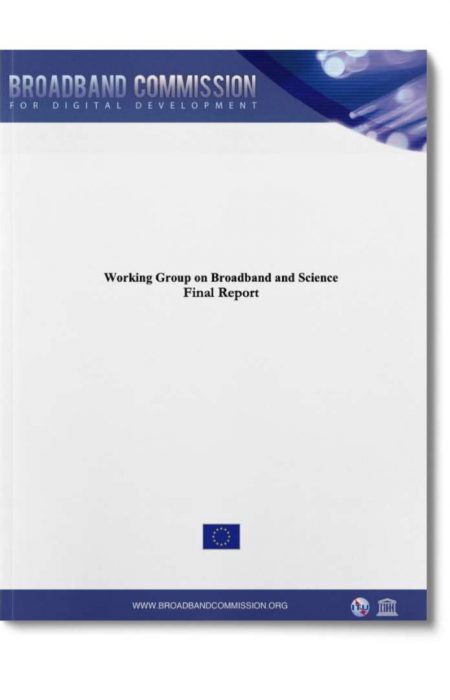 Working Group on Broadband and Science
Broadband connectivity has become a basic infrastructure of modern society, just like roads, electricity or water. Science and education communities depend on "e-Infrastructures" that build on broadband connectivity to provide online services supporting the communities' work. Not only have these services today become indispensable, they have also transformed the scientific process by enabling the rapid sharing of knowledge, virtual collaborations within and between continents, and remote access to scarce scientific resources and instruments. Developing regions stand to benefit in particular because broadband networks reduce the barriers of distance and location, allowing scientists to be 'linked' the world over, and allowing international access to valuable work and databases in developing countries on challenges in areas such as health, HIV/AIDS and environmental, all highly relevant to the MDGs.​
UNESCO
UNCTAD
UNF
OECD
FCC
WIPO
WPP
ITU
EUTELSAT IGO
DANTE (UK)
CERN
RENATER (FR)
MAAT (FR)
CLARA (UY)
Earth Institute
European Commission
Telefonica
Microsoft
Cisco – Bharti Airtel
Alcatel-Lucent
Ericsson
Knowledge Society Agency – UMIC
National Institution of ICT, NICT (JP)
Internet Society, ISOC
GEANT expert group
Ubuntunet Alliance (Uganda)
KTH Royal Institute of Technology (SE)
Leibniz Compute Center (D)
Meraka Institute (SA)
Instituto Nationale de Fisica Nucleare INFN (I)
Google
Internet2 (US)
University of Brunel (UK)