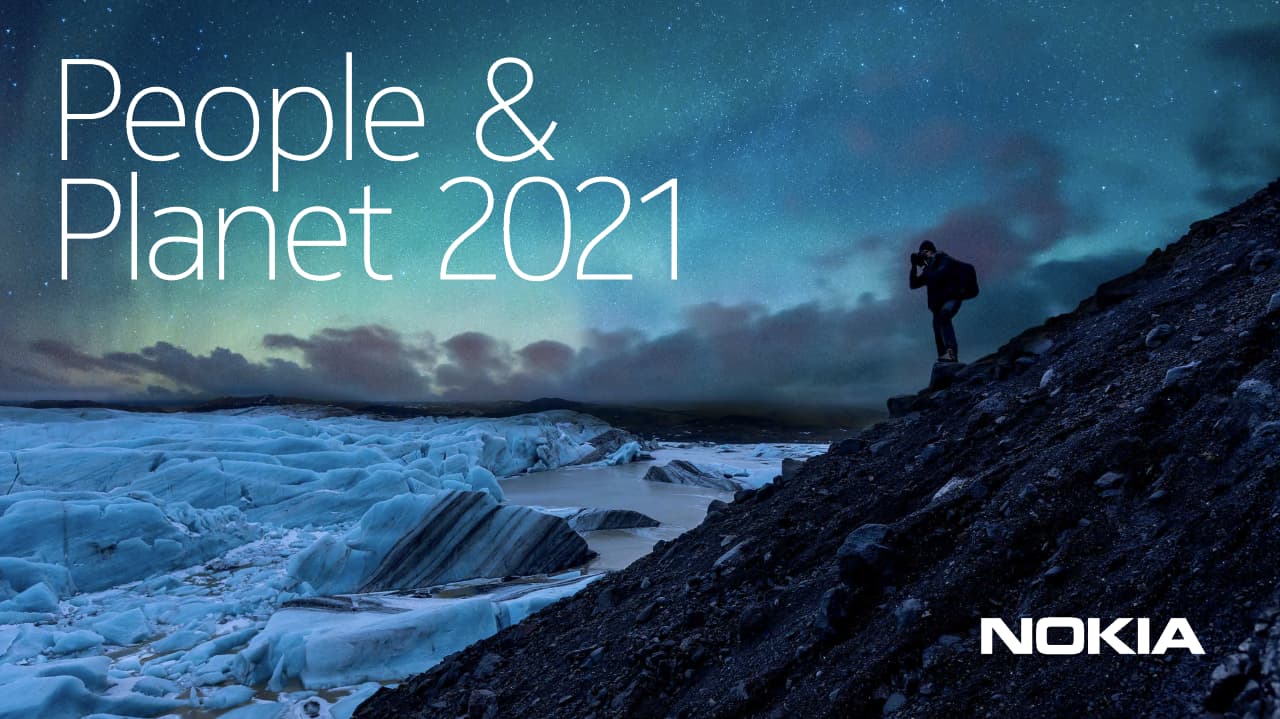 Connectivity and digitalization enable us to collaborate and innovate, engage with our communities and families, and help make our industries more productive and efficient. They allow us to learn and work together. In its yearly People and Planet report released in April, Nokia outlines its approach to sustainability and actions taken during 2021, aimed at connecting the unconnected.
Nokia's approach to sustainability centers around creating technology that helps the world act together. Nokia believes the positive social impact of digitalization and enhanced connectivity – its handprint, far outweighs its potential negative social impact – its footprint. And Nokia's approach is built on a foundation of responsible, ethical business practices.
Access to the benefits of connectivity and digitalization remains unequal across the globe. In late 2021, data from the International Telecommunication Union (ITU), the UN agency for information and communication technologies, suggested that 2.9 billion people remain unconnected despite a connectivity boost from the effects of the pandemic. Furthermore, the digitalization of industries remained low. Digitalization of the world's economy remains slow.
To respond to this challenge, and in line with Nokia's commitment to supporting ITU/UNESCO Broadband Commission goals (in particular Advocacy Targets 3, 4 and 7), Nokia works with its customers to connect the world's people, machines and devices. Critical networks, software, services and innovations delivered by Nokia help meet society's challenges and seize the opportunities, make communities smarter and more sustainable, transportation safer and greener, and enterprises more agile, energy and resource-efficient, and productive.
5G, combined with other technologies such as the Internet of Things (IoT) and Industrial IoT, Artificial Intelligence and Machine Learning, Big Data and Cloud, can assist in delivering greater economic and social prosperity, improved equity and opportunity for all people, and a healthier planet.
Nokia sees 5G transforming our lives in fundamental ways:
For example, in healthcare 5G can help save lives as the foundation of modern healthcare service. High-resolution video consultations, assistance robots and smart wearables all help to increase the efficiency and effectiveness of treatments.
To ease living and working, 5G coverage in cities and rural areas alike can allow everyone access to equal opportunities from their homes.
On the road, we can make journeys safer and more efficient with 5G car connectivity, enabling vehicles to connect to each other, infrastructure, network services, and other road users such as cyclists and pedestrians.
The rollout of 5G continued around the world in 2021 and Nokia continued to improve connectivity and coverage in many emerging markets and announced new cooperation in countries and territories such as Angola, rural regions of Argentina, Armenia, Bangladesh, Ecuador, Iraq, Kenya, Nepal and Malaysia. Nokia with its partners and customers serve the needs of school districts and local communities through best-in-breed broadband communications solutions that are fast and easy to deploy and manage.
Nokia's Private wireless solution – Nokia Digital Automation Cloud (DAC) with FastMile end-use home device can help cities, counties and educational entities enable students' access to online learning from the comfort of their homes. The same solution will enable broadband connectivity and business continuity for city services, such as community centers, hospitals and libraries, and help improve the safety of public employees as they can work from home when necessary.
The COVID-19 pandemic has shown the importance of connectivity, but also highlighted a growing digital divide. Bridging the divide successfully calls for collaboration, such as the case in El Salvador, where Nokia is working together with players from the public and private sectors to bring El Salvador's public services online. The aim is to have broadband in every school by 2030, as well as extending it to other public services such as medical clinics, hospitals and police stations. This will not only vastly improve internet access, but also help create the foundations for a modern digital economy. 
Another great example comes from Kenya where, Nokia came together with multiple stakeholders, including the local telecom service provider Safaricom, UNICEF and the Kenyan Ministries of Education and ICT, to connect close to ninety schools to the internet in Kenya's challenging rural and informal urban settlements. The initiative aims to connect the unconnected, with the ultimate goal of supporting the Kenyan government's plans to scale broadband connection to all schools by 2030. Read more about this initiative here.