Working Group Co-Chaired by:
​The Broadband Commission for Digital Development was launched by Dr. Hamadoun Touré, Secretary-General of the ITU, and Ms Irina Bokova, Director-General of UNESCO, in May 2010 in response to the call by the Secretary-General of the United Nations, Mr. Ban Ki-Moon, to step up UN effor​ts to help accelerate progress towards the Millennium Development Goals (MDGs). Its main aim is to highlight the importance of broadband in helping boost achievement of the MDGs. It unites senior policy-makers and top executives from the telecommunication industry in a bid to extend the benefits of high-speed Internet to people around the world. To focus the work of this influential set of leaders, the Commission established eight Working Groups on various key thematic areas.​​
Objectives of the Group:

​​​​This Working Group aims to highlight the opportunities associated with e-government and Public Private Partnerships (PPPs) in the future development of broadband.​​​
WG-EGov held its inaugural meeting in Levi, Finland, on 5 March 2011.​​​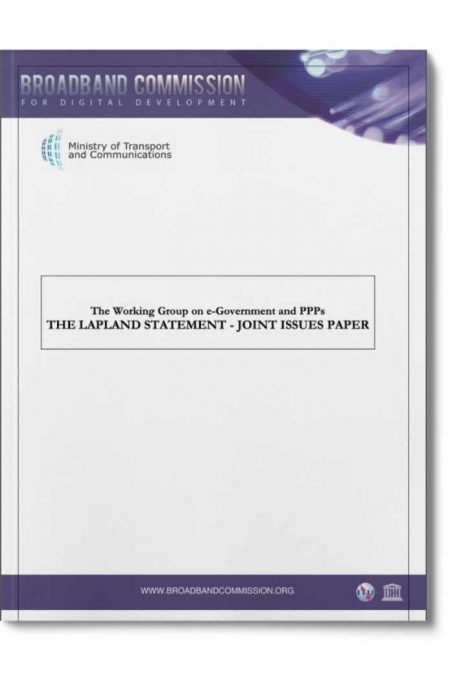 The Broadband Commission has a common vision for the accelerated achievement of the Millennium Development Goals (MDG's) by 2015. The vision is broadband inclusion for all which embodies effective and sustainable solutions to the global challenges in cases of poverty, health, education, climate change, gender equality and demographic shifts in youth and ageing populations.1 At the end of 2010, the Broadband Commission formed seven subgroups, which concentrate on specific issues by deepening and concretising the Broadband Commission's action plans. The Working Group on e-Government and PPPs will provide an interim report in June 2011 which will introduce a duplicable pilot case on e-Government services including A) Enabling environment, B) Stakeholders' role, C) e-Government applications and D) Network infrastructure.