Working Group Co-Chaired by:
The COVID-19 crisis led to a sudden and large-scale use of digital learning practices. The range of solutions put in place to ensure continuity of education and training was wide, including high-low-no tech solutions, with marked differences within and between countries. However, data indicate that educational inequalities have been exacerbated, the challenges are related, among others, to connectivity, lack of digital skills of learners and teaching staff, lack of quality education resources. Evidence shows differences between levels, sectors of education and training and countries. Online learning has been provided as a solution -for at least a proportion of students- in all high-income countries, but not as uniformly among countries in the other income groups. Many education and training institutions lacked expertise and struggled to offer distance and online learning opportunities to all their students (UNESCO, UNICEF, World Bank, 2020; UNESCO, ILO, OECD, forthcoming).
Though no one can predict how education and training systems will evolve in the months and years to come, there is evidence that the future of education will be characterized by its increased integration of digital learning and the important role of the education technology industries and communities.
The Global Education Meeting (GEM) organised late October 2020 by UNESCO, called among others, for protecting and investing in education and for narrowing the digital divide in education, develop quality open educational resources and build digital commons as a complement to face-to-face learning, with a view to enabling inclusive and equitable technology-supported learning.
Objectives of the Group:

The Working Group Members will advise on challenges and opportunities related to digital learning including: (i) equitable quality digital learning ecosystems; (ii) Digital skills and competence framework for life and work; (iii) Ethic, governance, finance and anticipation.  The aim is to benefit from the unique composition of the Commission and its expertise and perspective of the top/key players in the Technology industry, policy makers and IGOs and to engage with all relevant stakeholders and sharing knowledge about other existing resources and initiatives.
1. The group was launched in September 2020 during the Broadband Commission's Annual Fall Meeting.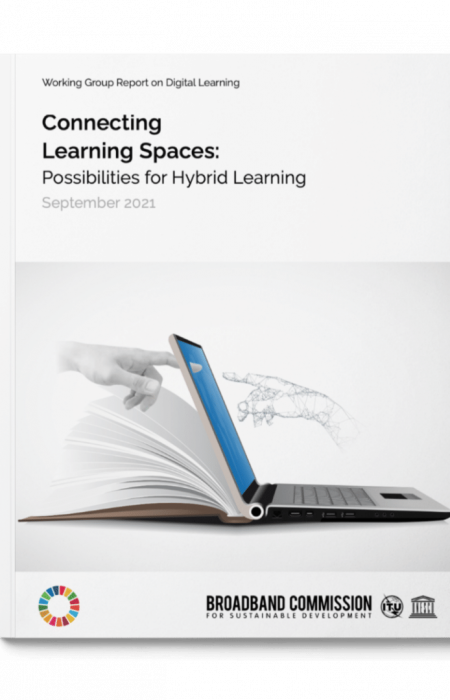 Connecting Learning Spaces:
Possibilities for Hybrid Learning
The report introduces a range of factors that should be in place in order for hybrid learning to be a viable option for students, requiring deliberate planning, informed decision-making and substantial investment. It addresses considerations for accessing hybrid learning, especially those related to equitable access as required by SDG4.
Co-Chairs: Ericsson, Huawei, UNESCO and ITU
Mr. Erik Ekudden, Ericsson
Ms. Sun Yafang, Huawei
UNESCO
ITU
Mr. Carlos Jarque, America Movil
Dr. Dato Ir. Lee Yee Cheong, Malaysia
Mr. Robert Kirkpatrick, UN Global Pulse
Mr. Achim Steiner, UNDP
Government of Rwanda
Mr. Mats Granryd, GSMA
Dr. Ann Aerts, Novartis Foundation
Dr. Hyeonmo Ku, KT Corporation
Mr. Piotr Dmochowski-Lipski, EUTELSAT IGO
Mr. Hans Vestberg, Verizon
Mr. Qu Dongyu, FAO
Ms. Phumzile Mlambo Ngcuka, UN

Women

UNHCR

UNICEF

Ms. Bella Rwigamba, Chief Digital Officer for the Ministry of Education in Rwanda
Mr. Alexandre Barbosa, UNESCO Regional Centre for studies on the Development of the Information Society
Mr. Christopher Yoo, University of Pennsylvania
Mr. Kris Gopalakrishnan
Mr. Urs Gasser, Executive Director of the Berkman Klein Center for Internet & Society at Harvard University and a Professor of Practice at Harvard Law School
Ms. MienDee Yong, CourseNetworking
Ms. Lucia Dellagnelo, Center for Innovation in Brazilian Education
Mr. Han Liqun, former dean of School of information engineering, Beijing Technology Business University
Ms. Liesbet Steer, Education Commission
Ms. Amy Bellinger, Education Commission
Ms. Rose Sagun, Education Commission
Mr. Ravi Suchak, Vice President, Public Affairs, American Tower Cooperation
Mr. Maikel Wilms, Boston Consulting Group
Ms. Joanna Rubinstein, World Childhood Foundation
Mr. Amer Baig
Ms. Maria Florencia Ripani, Fundación CEIBAL
Mr. Turhan Muluk, Intel
Mr. John Roman, Intel
Mr. Nuno Martin, Intel
Dr. Mutlu Cukurova, University College London
Mr. Joel Hellermark, SanaLab
Dr. Carol O'Donnell, Smithsonian Science Education Centre
Dr. Tarek Chehidi, Teach For All
Mr. Larry Irving
Prof. François Grey, Director, Geneva Tsinghua Initiative, University of Geneva
Mr. Dejan Jakovljevic
Mr. Mike Sharples, Professor, The Open University
Mr. Mitja Jermol, UNESCO Chair in Open Technologies for Open Educational Resources and Open Learning
Ms. Tracey Burns, Senior Analyst in the OECD's Centre for Educational Research and Innovation
Mr. Dominic Vergine, Head Of Sustainability, VP at Arm, Founder WEF 2030Vision, Co-founder The Centre for Global Equality, ARM.com
Ms. Nicola Doody, Senior Strategy Manager at Accenture
Mr. Luis Pinto, Education Venture Capital expert, BizDev Udemy Government
Ms. Audrey Scozzaro Ferrazzini, Senior Director, Government Affairs, Qualcomm
Ms. Liz Sproat, Global Head of Learning and Outcomes at LEGO Education
Mr. Mario Franco, Founder & Chairperson Millennium @EDU SUSTAINABLE EDUCATION
Ms. Radhika Iyengar, Director Education Sector, Center for Sustainable Development, The Earth Institute, Columbia University, New York
Mr. Charley Wrigh
Shanti Jagannathan, Asian Development Bank:
Jeanette Burmester and Marina Janssen, GIZ

Alessandro Brolpito,

European Training Foundation (ETF)


Karine Sonigo,

International Labour Organization (ILO)


Pasqualino Mare,

European Commission
The Digital Transformation of Education Report
Connecting Schools, Empowering Learners
This report identifies a set of core principles, which aim to help governments and other interested stakeholders to develop more holistic school connectivity plans. It focuses on school connectivity and introduces a methodology and framework for connecting primary and secondary schools to the Internet based on a four pillars approach: MAP, CONNECT, FINANCE and EMPOWER.